Designing a systems-based vision of the future of mobility
Trend research |competitive analysis | user interviews | concept development | Storyboarding | Video Production| Facilitation
The Network for Smart Mobility It is a way to leverage all elements in the system - pedestrians, bicyclists, regular cars, semi-autonomous cars, autonomous cars, and road signs to talk to each other via devices like mobile phones, wearables, in-car displays, dynamic road signs (also displays!) and sensor kits. The Smart Mobility Network can collect, transmit, and triangulate data about traffic jams, safety risks, emergencies, construction, weather threats, and other obstacles in the road. It is supported by a universal interaction model (or experience layer) that clearly, reliably, and familiarly communicates with drivers, passengers, and pedestrians alike in order to develop trust in the system over time. The Network benefits of safety, efficiency and convenience to everyone, no matter their level of connectivity (you can see road signs with your eyes! no need to be in a smart car!).
Note: This is the public facing version of a project done with a multinational tech company while I was an apprentice at Artefact.
Featured in FastCo
With a team of five | Artefact | Client: Multinational Tech Conglomerate | Timeline: 12 weeks
Understanding the Problem
In an industry ripe for disruption, where the automotive user experience is lagging far behind what people have learned to love in their mobile devices, the client's consumer electronics experience and innovation pedigree create an enormous opportunity to shape a transformative vision for the industry, for the client's partners, and the company itself.
Framing the future context
In order to attack the future of autonomous driving, we first had to define the future context in which our solution would live. To do this, we performed a gap analysis within the competitive landscape of future concepts, created an equation that we could use in conjunction with human needs, and performed lightweight secondary research on global and industry trends. We also worked with our team at the kick-off meeting to develop success criteria against which we could evaluate our concepts.
Understanding the future context was the most important part of framing our research goals. We created an equation that employed global and industry trends, human needs, and emerging technologies to help us understand what contexts might emerge in the next 30-50 years.
We held a workshop with the client to gain a better understanding of their strategic goals for the future, their desired outcomes, and their hopes and dreams. We also wanted to understand the work our client had already done in the space, what technologies we would have access to, and what customers they were focused on.
Immersion
We organized themes, quotes and, observations from our surveys, interviews, web eavesdropping, and home visits using an affinity diagram to bucket sentiments into thematic categories. This allowed us to create the following model, which gave us the ability to illustrate the current state of things concisely and gave us a roadmap for looking into the future.
Creating a Model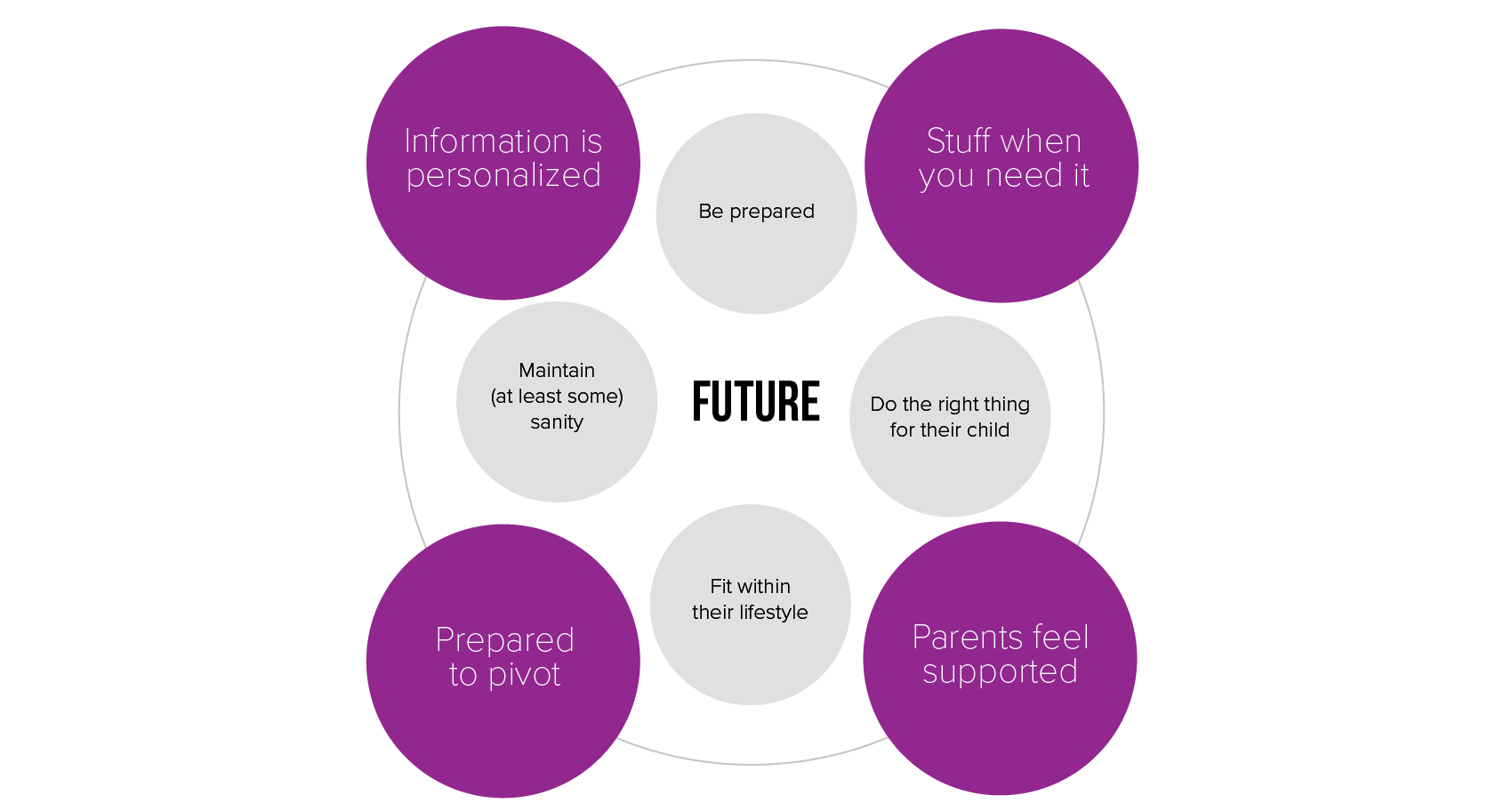 Insight
We knew we needed to create a system that followed the following principles:
Access over ownership
Stand on the shoulders of sharing
Just when you need it
Bridges communities
Ideation
Concept Generation
With the future context in mind, the team generated over 200 possible concepts to create use cases out of for evaluation. We were inspired by the emergence of the car sharing economy, the interior of the car, interaction models, commercial applications, behavioral nudges, and novel travel ideas.
SCenario Development
We evaluated our concepts with five new parents in speed dating exercises to determine which concepts were most interesting or seemed most feasible.
While we were hoping for a smoking gun that would point us in the correct direction, most of the feedback was all over the map. Most parents decided that the baby box rental system seemed like the most convenient idea, but we worried that parents said this because they were already familiar with box subscription services. All parents commented that "reimagining the baby shower" looked interesting and providing support was needed when their new baby was born. We also learned that new parents almost universally hate baby showers as they are. They don't like playing games, watching people open gifts, and they get items they don't want.
Trying to do it all
Initially, in an attempt to solve all of the pain points and create a service which would help all of the parents we spoke to, we sketched out an idea for a service that would combine a box subscription service, a rental service for big ticket items like strollers and baby carriers, a gift registry that would accommodate used items, and also a toolkit for having a supportive baby shower.
the baby shower is the root-cause
We quickly realized that combining a box-based rental service with a baby shower watered down all the concepts. They did not work elegantly together, and ultimately did not solve a problem. The babyshower was the lynchpin in a cascade of practices about gift giving that could be stopped in its tracks, and we felt it was the best and most elegant solution to reducing waste and providing support. We also found that it supported all four of our design principles, making it an even more elegant solution. It was time to prototype.
Iterate and Refine
Early Prototypes
After co-sketching a timeline and defining use patterns, we landed on a baby shower toolkit with decorations, invitations, and a poster to pledge time and support at the shower that would make more traditional families happy coupled with an app to help keep track of all the "gifts" at the shower. We also considered advice cards and a website. To make the information architecture clear, we started wireframing the app. That allowed us to understand how we would need to design the calendar, keep track of pledges, and how people would RSVP. We printed and prototyped the poster to see how large the stickers would need to be and what should be on them.
Poster ITeration
Surprisingly, the poster was a difficult piece to come up with. It had to be customizable for many themes, simple to read, and orient users to putting the stickers on the poster the correct way. We went through several iterations before landing on the final design. For purposes of this theme, we chose craft paper and bunting as a theme that could realistically be chosen by someone.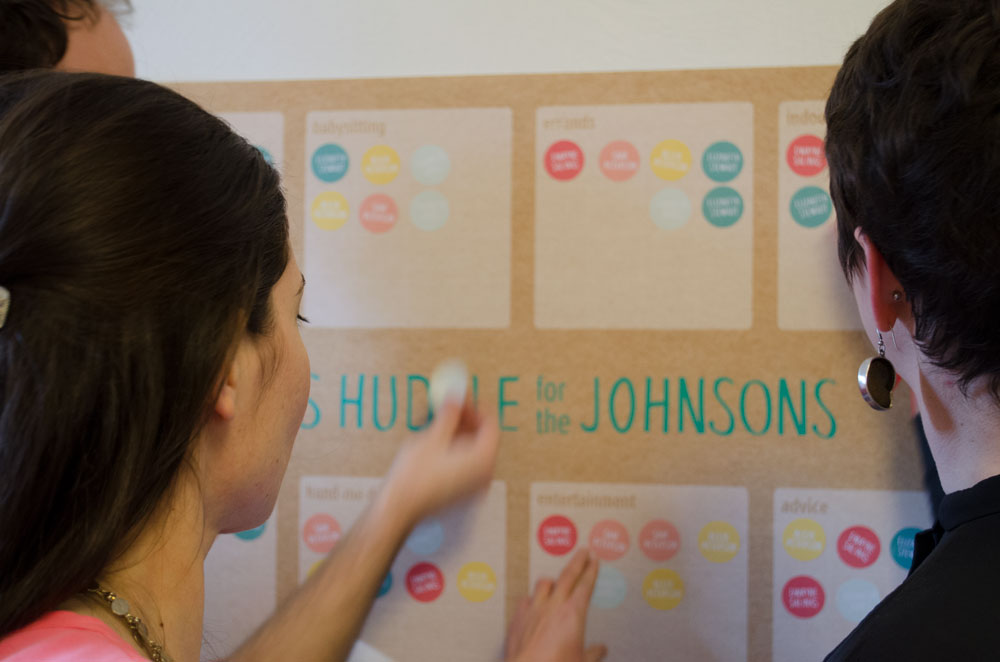 Huddle Logo Iteration
The brand and the party theme had to be distinctly separate to hit the right note. The shower items could not feel "corporate" and the brand needed to feel warm and inviting.
App Iteration
We spent the most time iterating the app design since it is the quarterback of the system. The calendar system, the feed, clear feedback, and appropriately sized touch-targets were all considerations as we moved through designing the application. We left the website design fairly basic because it's primarily used for on-boarding and not a repeated touchpoint in the system. We used Google Material Design as a starting point for the medium-fidelity mock ups.
Looking to the Future
The process of creating Huddle was an adventure in an of itself. We began with many assumptions about what we might possibly make. We thought rent-the-runway for babies was in the cards for us, but research showed us that there is often a more interesting and more impactful root-cause of a problem. Evaluating and exploring different concepts allowed us to reframe the problem and look at it from a lens of changing practices rather than trying to slowly shift an existing paradigm. It was satisfying to meander through the research and come to a concept that felt solid and gave us a clear direction.
If we did it all again, we would love to be able to host a real huddle to test the concept with users. We would also do more evaluative testing of the app to see if people would actually be willing to download the app, and we would love to see how and with whom the concept would be adopted. We also envision this concept would be useful for weddings, children's birthday parties, and other life milestones that often come with too many material gifts.