imagining a Better Future for Pittsburgh Public Schools
Mapping Complexity |Design Research |Wicked Problem Analysis| Concepting | Storyboarding | Backcasting
Huddle is a three part system consisting of a website, an app, and a toolkit to help new parents throw a Huddle instead of a traditional baby shower. The system transitions the traditional baby shower from an event about material items to an event about gathering and organizing support for new parents. The aim of the system is to shift practices surrounding the birth of a new baby. It affords grandparents with traditional values the opportunity to throw a shower while removing the conduit for an endless unsolicited stream of gifts for new parents. It provides parents with a way to easily manage meals, chores, and visits pledged at the Huddle and provides guests with a private feed of baby pictures and thank-yous. All-in-all, the system is meant to make parents feel supported while reducing waste generated by thousands of dollars worth of baby gear.
Brief: Design a product ecosystem that extends beyond the screen. Your solution must include multiple touchpoints across multiple channels (e.g., screen-
based technology, physical goods, wearables, ambient indicators, wayfinding/signage systems, other print materials, and/or service-oriented interactions between people). These components must work together in supporting a user or community of users as they attempt to achieve some practical goal.
With Lauren Miller + Theora Kvitka | Carnegie Mellon University | Instructors: Raelynn O'Leary + Ashley Deal | Interaction Design Studio | Timeline: 6 weeks
Understanding the Problem
New families spend an average of $12,000 and up to $30,000 outfitting their homes for a new baby in the first year of life, and that number is repeated and increased every year thereafter. Everything from cribs to rocking chairs, to Mr. Boppys and Sophie dolls, to bottle warmers to diapers are included on the growing list of items required for a new baby. The amount a family spends on a new baby can be influenced by a number of factors - parenting styles, general consumption patterns, access and proximity to hand-me-downs from family or friends, baby registries, recommendations from others (in person and online). Yet in hindsight, many parents complain that they bought too many items, used expensive items only once or twice, or their baby's preferences didn't align with particular products.
Parents ultimately want to do the right thing for their children, but finding the "correct" items is difficult. Furthermore, babies grow fast, so certain items may only be relevant during a certain development stage, only to become obsolete within a few days, weeks or months as the baby grows. These items must then be discarded, stored, donated, or resold, adding additional burden to a new parent's everyday life and household logistics.
In essence, babies are expensive and they need a lot of stuff. With this information at the forefront of our minds, we asked ourselves the following questions:
How might we....
Make planning and accessing baby gear easier, less expensive, stressful, and wasteful?
Connect new parents to better information about what gear they need and provide support
for better decision making on baby-related purchases?
Foster a sense of place-based community between new parents in a way that enables
sharing of information, education, support, and collaborative consumption?
Understanding the practices that define acquiring products for a new baby was the key to understanding how to frame our research. We split stakeholders, practices, and lifestyle choices into a venn diagram to see how they overlapped to identify points for intervention.
We conducted 10 interviews, received 95 survey responses, eavesdropped on the web, did home visits, and scoured the baby aisle at Target to empathize and get an accurate idea of what the experience of planning for a new baby is like.
We organized themes, quotes and, observations from our surveys, interviews, web eavesdropping, and home visits using an affinity diagram to bucket sentiments into thematic categories. This allowed us to create the following model, which gave us the ability to illustrate the current state of things concisely and gave us a roadmap for looking into the future.
Creating a Model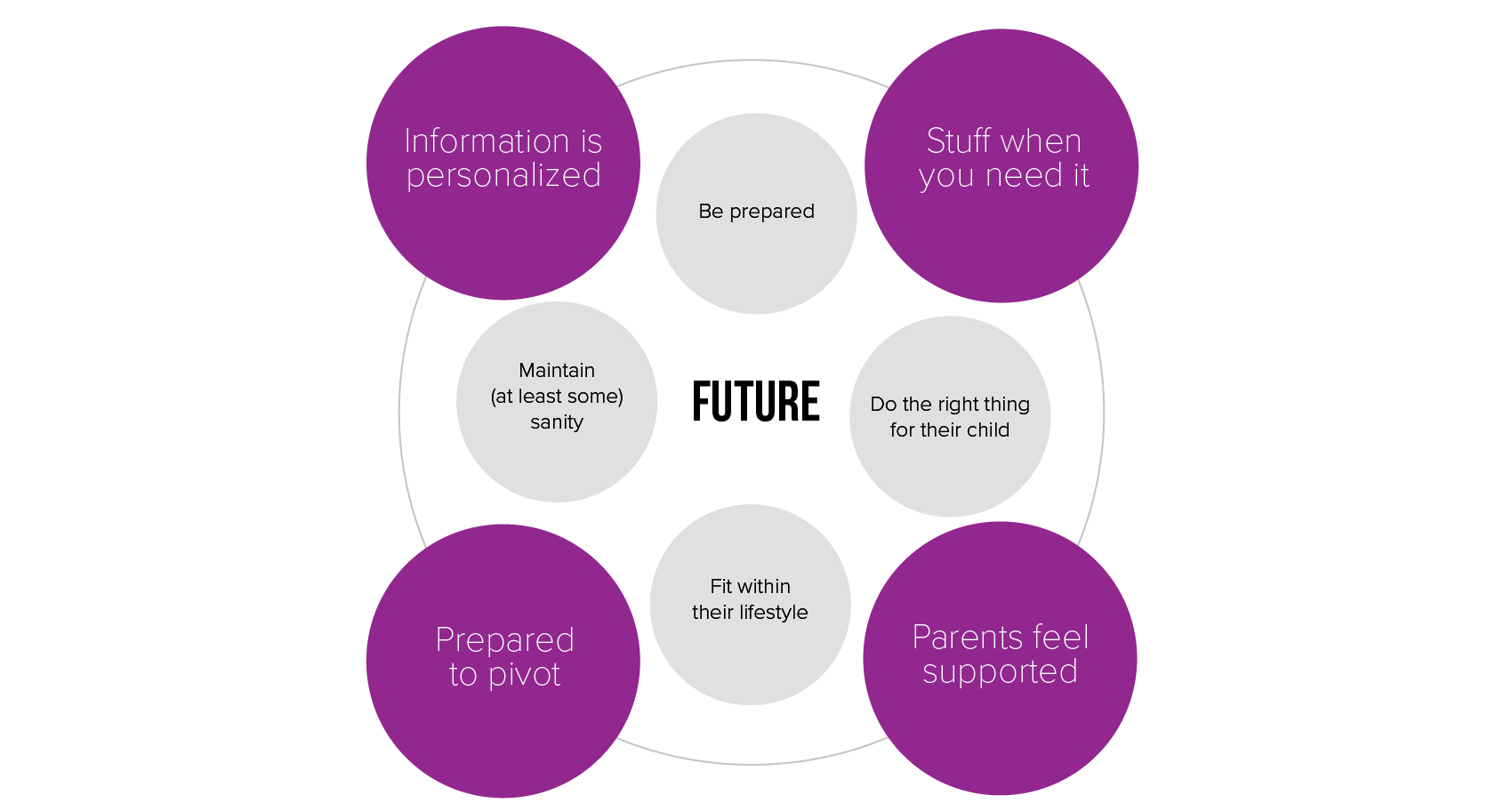 Insight
We knew we needed to create a system that followed the following principles:
Access over ownership
Stand on the shoulders of sharing
Just when you need it
Bridges communities
Ideation
Concept development
From the model, we created seven distinct concepts that ranged from a consultant that would come to your home, to reimagining the baby shower, to a baby box rental subscription with storage options.
Evaluative Research
We evaluated our concepts with five new parents in speed dating exercises to determine which concepts were most interesting or seemed most feasible.
While we were hoping for a smoking gun that would point us in the correct direction, most of the feedback was all over the map. Most parents decided that the baby box rental system seemed like the most convenient idea, but we worried that parents said this because they were already familiar with box subscription services. All parents commented that "reimagining the baby shower" looked interesting and providing support was needed when their new baby was born. We also learned that new parents almost universally hate baby showers as they are. They don't like playing games, watching people open gifts, and they get items they don't want.
Trying to do it all
Initially, in an attempt to solve all of the pain points and create a service which would help all of the parents we spoke to, we sketched out an idea for a service that would combine a box subscription service, a rental service for big ticket items like strollers and baby carriers, a gift registry that would accommodate used items, and also a toolkit for having a supportive baby shower.
the baby shower is the root-cause
We quickly realized that combining a box-based rental service with a baby shower watered down all the concepts. They did not work elegantly together, and ultimately did not solve a problem. The babyshower was the lynchpin in a cascade of practices about gift giving that could be stopped in its tracks, and we felt it was the best and most elegant solution to reducing waste and providing support. We also found that it supported all four of our design principles, making it an even more elegant solution. It was time to prototype.
Iterate and Refine
Early Prototypes
After co-sketching a timeline and defining use patterns, we landed on a baby shower toolkit with decorations, invitations, and a poster to pledge time and support at the shower that would make more traditional families happy coupled with an app to help keep track of all the "gifts" at the shower. We also considered advice cards and a website. To make the information architecture clear, we started wireframing the app. That allowed us to understand how we would need to design the calendar, keep track of pledges, and how people would RSVP. We printed and prototyped the poster to see how large the stickers would need to be and what should be on them.
Poster ITeration
Surprisingly, the poster was a difficult piece to come up with. It had to be customizable for many themes, simple to read, and orient users to putting the stickers on the poster the correct way. We went through several iterations before landing on the final design. For purposes of this theme, we chose craft paper and bunting as a theme that could realistically be chosen by someone.
Huddle Logo Iteration
The brand and the party theme had to be distinctly separate to hit the right note. The shower items could not feel "corporate" and the brand needed to feel warm and inviting.
App Iteration
We spent the most time iterating the app design since it is the quarterback of the system. The calendar system, the feed, clear feedback, and appropriately sized touch-targets were all considerations as we moved through designing the application. We left the website design fairly basic because it's primarily used for on-boarding and not a repeated touchpoint in the system. We used Google Material Design as a starting point for the medium-fidelity mock ups.
Looking to the Future
The process of creating Huddle was an adventure in an of itself. We began with many assumptions about what we might possibly make. We thought rent-the-runway for babies was in the cards for us, but research showed us that there is often a more interesting and more impactful root-cause of a problem. Evaluating and exploring different concepts allowed us to reframe the problem and look at it from a lens of changing practices rather than trying to slowly shift an existing paradigm. It was satisfying to meander through the research and come to a concept that felt solid and gave us a clear direction.
If we did it all again, we would love to be able to host a real huddle to test the concept with users. We would also do more evaluative testing of the app to see if people would actually be willing to download the app, and we would love to see how and with whom the concept would be adopted. We also envision this concept would be useful for weddings, children's birthday parties, and other life milestones that often come with too many material gifts.